In 2013, Marg Peachey, a passionate wildlife carer, saw the need for a wildlife group that would care for injured, sick and orphaned native animals within the ACT. After a great deal of thought and planning, Marg gathered together a group of friends who were wildlife carers and presented a proposal. The group accepted her proposal and there the work began.
The name ACT Wildlife Inc (ACTW) was chosen and an application to the ACT Government for a Licence to Take (from the wild) was approved.
The group then formed the ACTW Committee which met monthly and began to build the organisation. High on the priority list was applying for grants because ACTW started with no money. The first grants received were from IFAW (International Fund for Animal Welfare) and the Herpetological Association of the ACT. The RSPCA and the ACT Government have also been very supportive from the beginning.
In November of 2013, ACT Wildlife ran its first training and orientation courses. A total of 40 people attended and, of those, ten people had aviaries so were ready to care. ACTW had their first carers! Animals were received from the RSPCA and a couple of veterinary practices and before long all the aviaries were full.
In 2013 the 24/7 Hotline began. Calls to this hotline grow by around 35% each year with approximately 1500 animals coming into care each year.
In 2018 two permanent buildings were acquired where administration and training can take place. Both properties have permanent aviaries added including a flying fox aviary which housed many injured flying foxes after the 2019 damaging hailstorm.
ACTW continues to grow in strength and gains new members, carers and volunteers on a regular basis. Volunteer carers are trained in all aspects of caring and volunteering. ACTW is committed to rescue, rehabilitate and release of native wildlife in the ACT.
ACTW is a community organisation that is totally run by volunteers.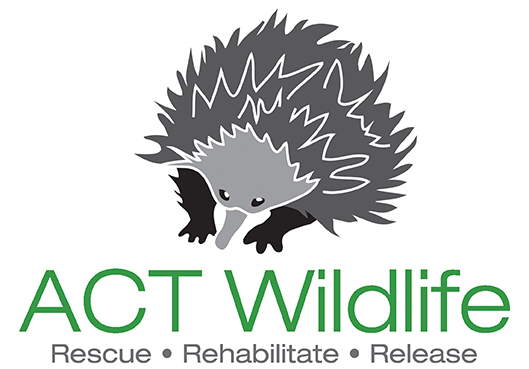 We have chosen the echidna as our logo.
It is an animal we see only occasionally in our region, usually crossing roads or wandering through gardens. People pick them up thinking they are in need of rescue but they generally only need to be moved off the road.
Please remove them (carefully) to the side of the road that they were going to.